Guardians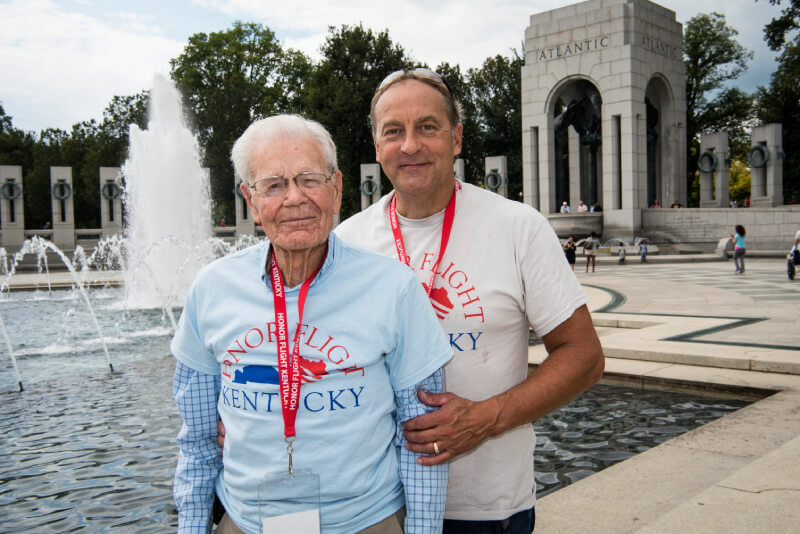 Guardians are essential to the success of the Honor Flight Network Program. Without these volunteers we would not be able to carry out the dreams of so many veterans, enabling them to see the memorials built in their honor.
The veteran's safety and health are our primary concern and Honor Flight Kentucky requires applicants adhere to strict Guardian guidelines. Guardian duties include physically assisting veterans at the airport, during the flight, and at the memorials.
In order to serve as a guardian, preferred applicants should be between 18-65 years of age. Applicants outside the preferred age range may be considered. In addition spouses and significant others may not serve as guardians. Guardians should be intellectually, physically, and emotionally capable of caring for their veteran. We reserve the right to refuse any guardian application. All guardians are responsible for paying a $600 travel fee, which helps to ensure that our veterans continue to fly for free.
Please note that Guardian Training is mandatory to assume the responsibilities as a qualified Guardian before participating on a mission.
By submitting your application, you are agreeing to the following statement. As a Guardian, I agree to donate the sum of $600.00 as determined by the Honor Flight Kentucky Chapter Board of Directors to offset my costs (airfare, meals, insurance, charter bus, police escort, t-shirt and ancillary items) involved with my participation in an Honor Flight Mission. As a 501 (c)(3) Charity as determined by the IRS, your donation is tax deductible to the full extent of the law and shall be acknowledged by the Honor Flight Kentucky Chapter.
Before submitting a Veteran or Guardian application, please ensure you meet the requirements below:
Yes, I would like to fly out of Blue Grass Airport, Lexington, KY. (If not, please visit www.honorflight.org for other hubs)
I served in the Active Component, Reserves or in the National Guard, honorably, in any branch, anywhere, and in any capacity during or between the official Department of Veteran's Affairs dates for WWII, and the Korean and Vietnam Wars, between the years 1941-1975.
Please note: Do not use the return key until you have completed the entire application. Use your mouse cursor or the tab key to navigate between data entry fields.
Guardian online application